In Person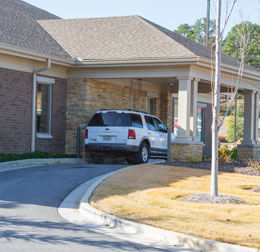 The Electric Board Office is open from 10 a.m. to 3:00 p.m. and our drive thru is open 8 a.m. to 4:30 p.m., Monday through Friday, except holidays, for transaction of business. We accept Cash, Check, Discover Card, VISA or MasterCard Debit and Credit Card. We also have a drive thru for your convenience. Please remember to have your bill with you when paying during regular business hours.
We are located at 701 Blount Avenue in Guntersville
24/7 Kiosk
The Electric Board Office now has a payment kiosk located at our Blount Avenue office. The kiosk is open 24/7 and accepts checks, cash or credit cards.
By Phone
You may make a payment by phone, just call 866-550-3475. You will need your 12-digit account number, located on the top left of your bill. There is no fee for using this service.
To pay by phone call: 866-550-3475
Night Drop
An after-hours payment box is available at the Electric Board of Guntersville and the Marshall County Gas District. Please attach remittance stub when paying at the night drop box. The Electric Board of Guntersville is not responsible for cash payments left in night drops; cash payments in night drops are discouraged.
Electric Board of Guntersville
701 Blount Avenue
Marshall County Gas District
1245 Gunter Avenue
By Mail
Please send check or money order (it is not advisable to send cash through the mail). Please send remittance stub with payment. Mailing address:
Electric Board of Guntersville
PO Box 45
Guntersville, AL 35976
Automatic Bank Draft
Have your payment deducted automatically from your bank account every month. Click the link below to download an Bank Draft Authorization form. Complete and return form to the Electric Board Office.
Get The Form
Paying Your Bill On Time
Why pay more than you owe? A penalty is charged on all bill payments not received in the Electric Board Office or night drop boxes by the due date. A postmark does not qualify as the date payment is received. A late notice fee of $3.00 will be added two (2) days after due date. One of the best ways to avoid late fees is to use our automatic bank draft feature.
All customers will be billed monthly and must be paid by the date due to be considered timely paid. The customary billing period is generally 28-31 days, although a customer's first months' bill may be for more or less than this time period. Weekends/holidays may affect the number of days in the billing cycle. Residential customers will be given 15 days to pay their bills before late fees are charged; all other rate classes will receive a minimum of 10 days. If the due date falls on a weekend or holiday, the next business day will be held as a day of grace for payments to be received with no late fees added. FAILURE TO RECEIVE A BILL DOES NOT RELEASE THE CUSTOMER FROM THE OBLIGATION TO PAY IN A TIMELY MANNER, NOR WILL IT RELEASE THE CUSTOMER FROM PAYING ANY LATE FEES INCURRED. IT IS THE RESPONSIBILITY OF THE CUSTOMER TO CONTACT OUR OFFICE IF THEY HAVE NOT RECEIVED THEIR BILL BY THE CUSTOMARY TIME. IT IS ALSO THE CUSTOMER'S RESPONSIBILITY TO NOTIFY THE DEPARTMENT OF ANY BILLING ADDRESS CHANGES.
Customers must allow property access to the Department for any monthly meter readings or other maintenance work that is deemed necessary. If a customer has a locked gate or other barrier to free access to the property, customers must either provide a form of entry (i.e. key to the lock) or otherwise make satisfactory arrangements with the Department for needed access. Customer must also grant safe access to their premises, which includes the proper restraint of dogs or any other animal they may own.
Customers may receive a twelve month history of billing data upon request. This information will NOT be provided to anyone other than the customer without the customer's written consent (i.e. real estate agents).