New Customers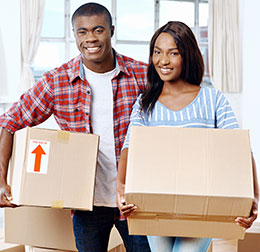 All new customers who do not already have an account with us must appear in our office to apply for service. New applicants must bring their driver's license or non-driver's ID as proof of identification and a copy of their lease if power is requested for a rental property. Homeowners should bring proof of ownership for the property where power is requested. If the customer was not provided a lease agreement, the customer must obtain a copy of the Department's Rental Property Information Form (available for download below), fully complete the form and submit it with their application for service. The person requesting service must be the same person whose name appears on the lease. A deposit may be required (see Deposits section) as well as a connection fee (see Schedule of Service Fees). These must be paid in full before service is connected.
Application for New Service
View Deposits & Fees
Existing Customers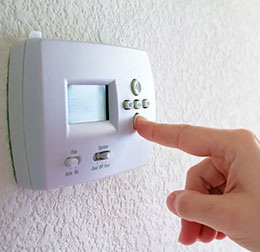 Existing customers who wish to transfer service to a different location must appear in our office, sign the service order and pay a transfer fee. In addition, customers may be required to pay any past due amount owed at their current service location before the power is connected at the new location.
Any existing customer who wishes to request additional service in their name must contact the office. Customers who have established good credit with the Department may not be required to pay an additional deposit; however, a connection fee will be charged. An existing customer must either appear in our office to request the additional service, or they may be allowed to fax in the request to 256-582-5929, or email the request to ebofg@hiwaay.net. No power will be turned on without a written signature from the person requesting service.
Application for Transfer of Service
New Construction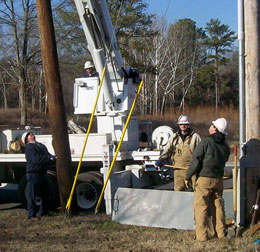 After the customer has made application for new service as stipulated above, the Department's superintendent or other designated employee will meet with the customer at the job site to determine what equipment installation will be needed to provide service. The customer will be informed of any work that the customer will be responsible for completing to establish service. A statement of any aid-in-construction charges, if applicable, will be provided the customer. These charges must be paid in advance before the job will be scheduled by the Department.
The customer must provide and clear initial thirty (30) feet of right-of-way from ground to sky including any right-of-way required on neighboring properties. The Department's superintendent or designated employee will define the location of the right-of-way after written easements have been obtained.
Always look up before choosing a building site to make sure you are not under electric lines and check the location of the nearest electric lines.
All services must be equipped with an outside disconnect. All wiring must conform to the requirements of the National Fire Code and National Electric Code. Construction on property within the city limits of Guntersville will be subject to inspection from the City of Guntersville's building inspector. Please call 256-571-7564 for more information.
Rental Property Form